Got Questions?
Here's a list of our most frequently asked questions.
Do you buy logs?
Short answer: Yes. Long answer: It's complicated.
Do you buy timberland?
Yes, we do. Please call us, we'd be happy to scout your land and advise you of your best route to take.
Do you cut trees for individuals?
Sorry, we do not.
What is the difference between Eastern and Western Cedar?
One is red and white, one is a brownish red. Both are great for exterior applications. Eastern Cedar is grown in the southern/ eastern United States, and Western Cedar in the western United States and Canada.
Does Cypress rot?
Yes, but it takes a while.
Where do you harvest your wood?
We are located on the corners of Texas, Oklahoma, Louisiana, and Arkansas, therefore, we harvest and mill wood from all four of those states. We import domestic hardwoods such as Hard Maple and Cherry from the Northern United States and Doug Fir/Western Cedar from the Western United States and Canada. Our exotic lumber comes from all over the world, we don't discriminate.
Is your live edge wood kiln dried?
Yes. We air dry and kiln dry all our live edge wood, including live edge slabs, live edge mantels, and live edge shelves. This is very important, if you're not buying your live edge products from us, make sure they are kiln dried to minimize warping and cracking.
Can you plane the lumber I glue?
No. We do not allow lumber into our facility for a variety of reasons. Even if the wood was purchased here, once it leaves our yard, we don't allow it to return to our facility.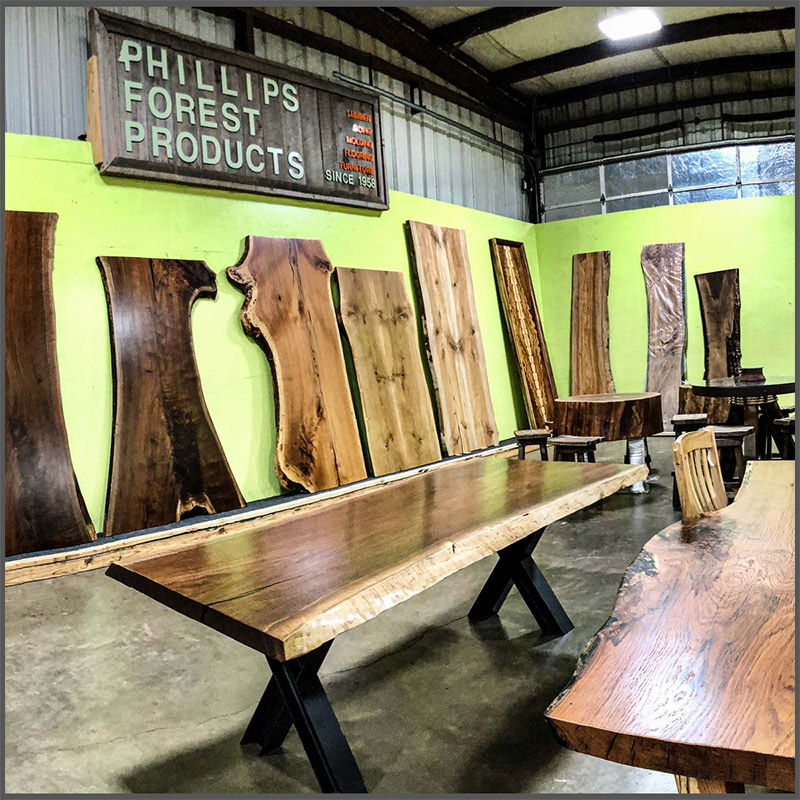 WOOD IS UNIVERSALLY BEAUTIFUL TO MAN. IT IS THE MOST HUMANLY INTIMATE OF ALL MATERIALS FRANK LLOYD WRIGHT, AMERICAN ARCHITECT